Fishing in Finland - Lake Saimaa
Lake Saimaa - the biggest, most beautiful and labyrinthine

The labyrinthine island areas form endless water mazes. Landlocked salmon pursue vendace in wide open mid-lake areas, while pike and zander swim about at the flanks of rocks. The silence is unbroken as a ringed seal pops its head up above the water. Lake Saimaa is the most precious jewel of Finnish nature.
Finland

As the country with the most waters in the whole world, Finland offers diverse opportunities for catching various species of fish. As much as 10 % of our country's surface is covered by water. It is just as easy to go fishing on the outskirts of a city as on a wilderness lake.
In Finland there exists 187,888 lakes, the Finnish Lake District – the most extensive area of unbroken lake in Europe – as well as 1,100 kilometers of Baltic Sea coastline, including its archipelagos, and 647 rivers covering 25,000 kilometers. Could anglers wish for more?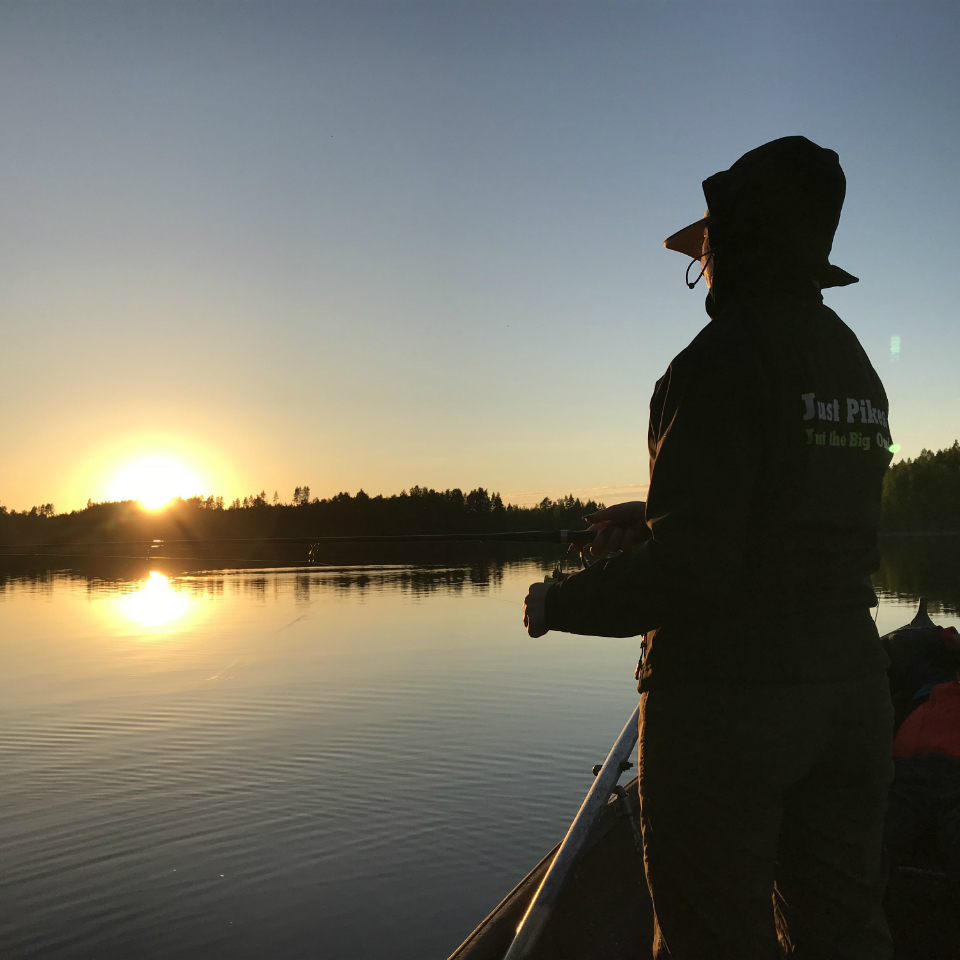 They definitely could. Anglers obviously also wish for those waters to be brimming with fish. Luckily, their wishes came true. In addition to being well-stocked, Finland's extensive waters are also pristine and full of beautiful scenery that will take your breath away. Unlike crowded fishing sites around the world, Finland offers space and silence. Here you can fish in your own peace, face-to-face with nature.
The most common game species include the white-fleshed predators pike, perch and zander. Pike and perch can be found in almost all waters. Over a meter-long pike is no big deal anywhere in Finland. The best zander stocks can be found in the lake district of Southern and Central Finland and on the southern sea coast.
Finland is home to splendid waters that cater for spinning, fly-fishing and trolling enthusiasts alike. The open-water season lasts from late April to late November or early December. In winter, waters are covered in ice and anglers switch to ice-fishing.
It is just as easy to go fishing on the outskirts of a city as on a wilderness lake, thanks to good connections and reasonably priced fishing licenses. High-quality cottages and other accommodation sites, located by the waters, make for excellent bases for an active and independent fishing holiday. The easiest way for you to get to know the fishing grounds is to turn to professional fishing guides who are located all across Finland as part of a comprehensive network. They have local knowledge and equipment making it easy to move along the water routes.
Thanks to the abundance of waters, fishing has always been an integral part of the Finnish way of life with long traditions.
Lake Saimaa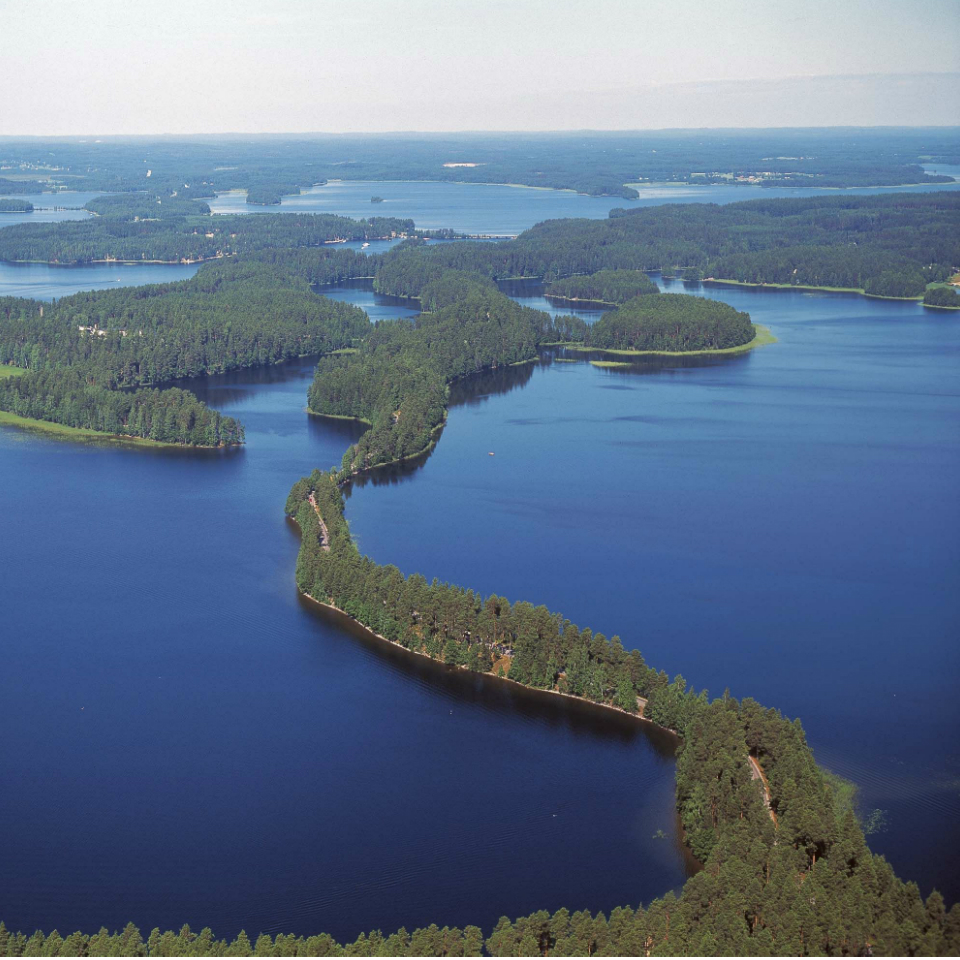 Lake Saimaa, the fourth largest lake in Europe, is situated in Eastern Finland between the Cities of Lappeenranta and Joensuu and is a diverse chain of waters almost 200 km long. For anglers, the extensive water body and its thousands of islands and islets represent an unlimited number of fishing grounds.
Lake Saimaa consists of several major water areas, joined up by sounds and narrow passages. These areas are also known as lakes named in their own right, even if their water level is the same. The key parts of Lake Saimaa are Lakes Suur-Saimaa, Pihlajavesi, Haukivesi, Puruvesi, Orivesi and Pyhäselkä.
Pike from edges of currents during hot spells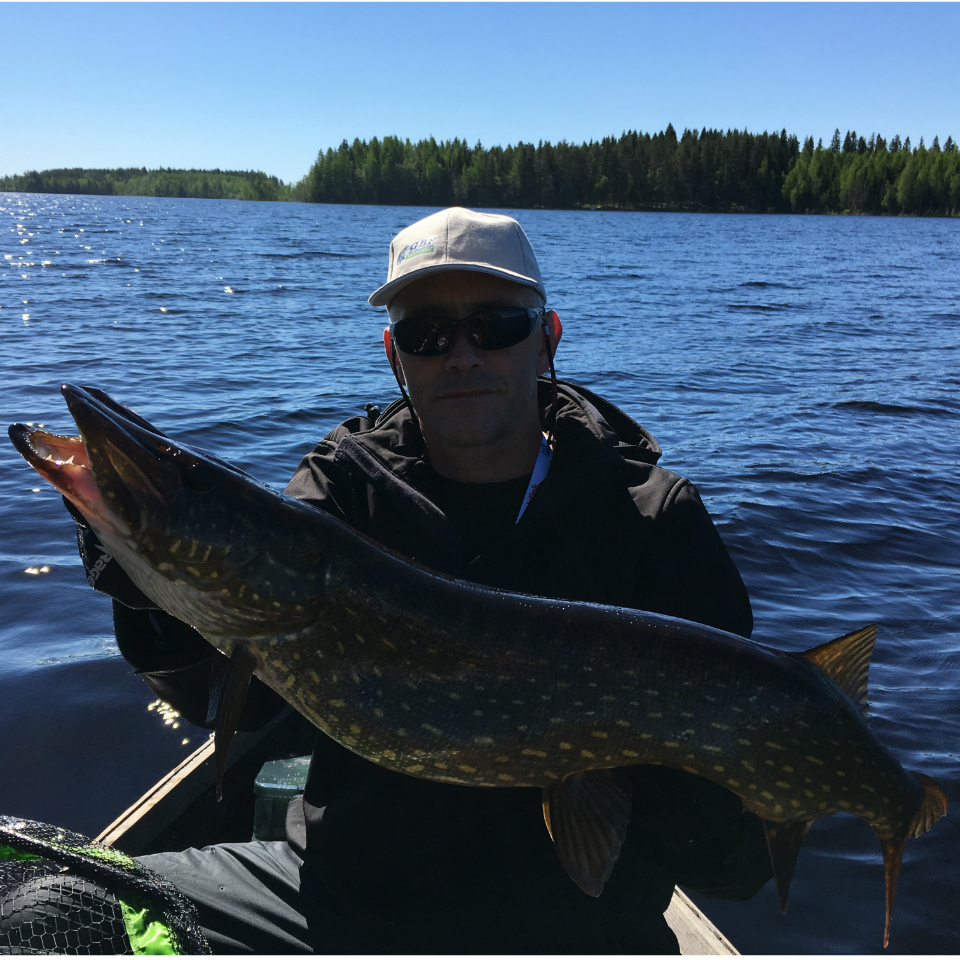 The most important game species on this largest lake in Finland are pike, zander and perch, which can be found throughout the area. Countless bays, points and shoals make for great fishing grounds.
On Lake Saimaa, you can catch big pike even during hot spells using spinning tackle in the fast-flowing narrow passages and their edges, characteristic of the area, where big perch also like to spend time pursuing bleak.
A landlocked form of salmon, known as the Saimaa salmon, still lives in the lake as a relict from the Ice Age. The landlocked salmon stock is maintained by means of restocking. There is a specific management strategy in place for landlocked salmon, aiming to steer fishing practices.
You can go fishing with a guide or on your own.
Our professional fishing guides help you to uncover the secrets of the underwater world by steering the boat to the fishing grounds that long experience has proved to be the best in the area. Excellent equipment, varied fishing waters abounding in fish, and the reliable people we work with make sure that you will have a fishing trip to remember.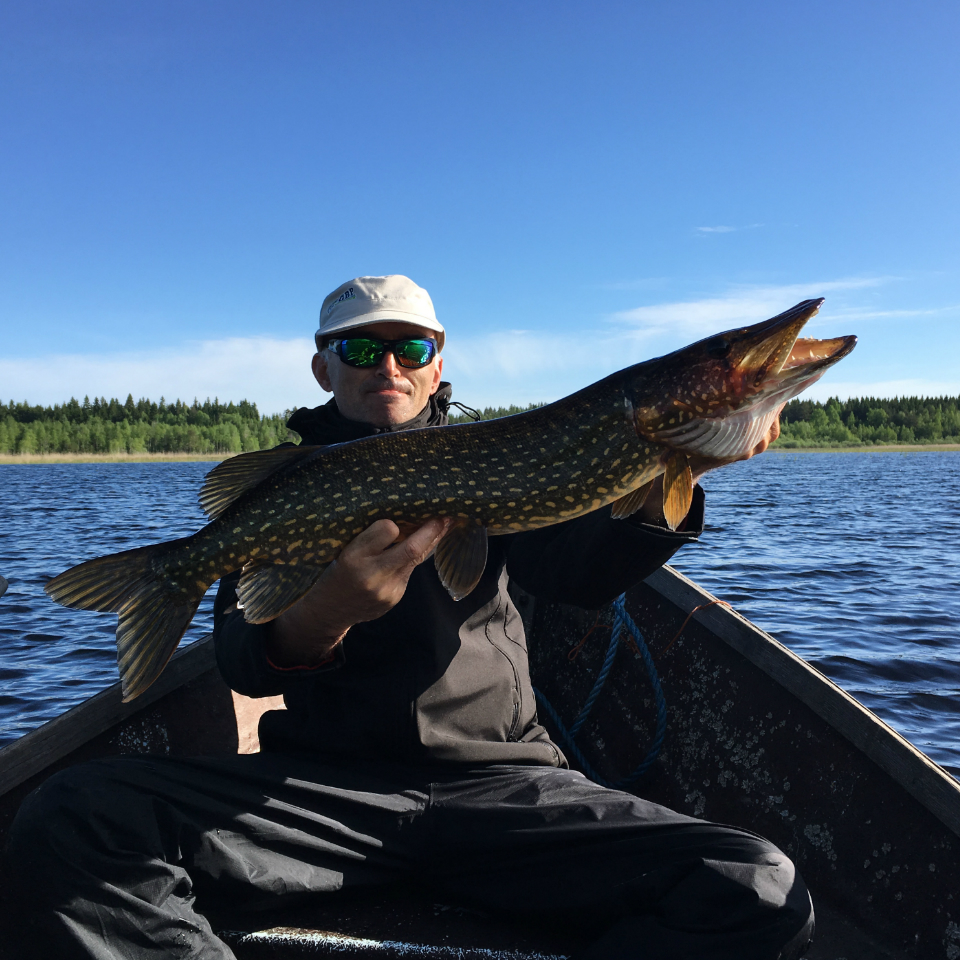 If you prefer to go out fishing on your own, from us you can buy fishing licenses, lures, bait, maps and get hints about fishing in this area. We also rent for example angling and spinning equipment, rain clothes, row boats and small motor boats.
Fishing seasons
Pike: 15.05. – 30.11.
Perch: 1.06. - 30.11.
Zander: 10.06. – 15.09.
Salmon: 13.05. – 10.06. and 1.09. – 30.11.
Fishing License
If you are between 18 and 64 years of age and want to practise fishing other than angling or jigging you need to purchase the Fishing License. This license is valid for almost all waters of Finland (except special fishing places, rivers etc.). License is for one rod/ person.
Fishing license is personal and it must be paid before fishing has started. The fisher must have proof of the payment and, if requested, present this to an authority or other person who supervises fishing. The proof may be a receipt, fishing card or bank statement. Fishing license need not be paid for assisting persons (such as rowers) who do not handle the fishing gear during fishing.
Accommodation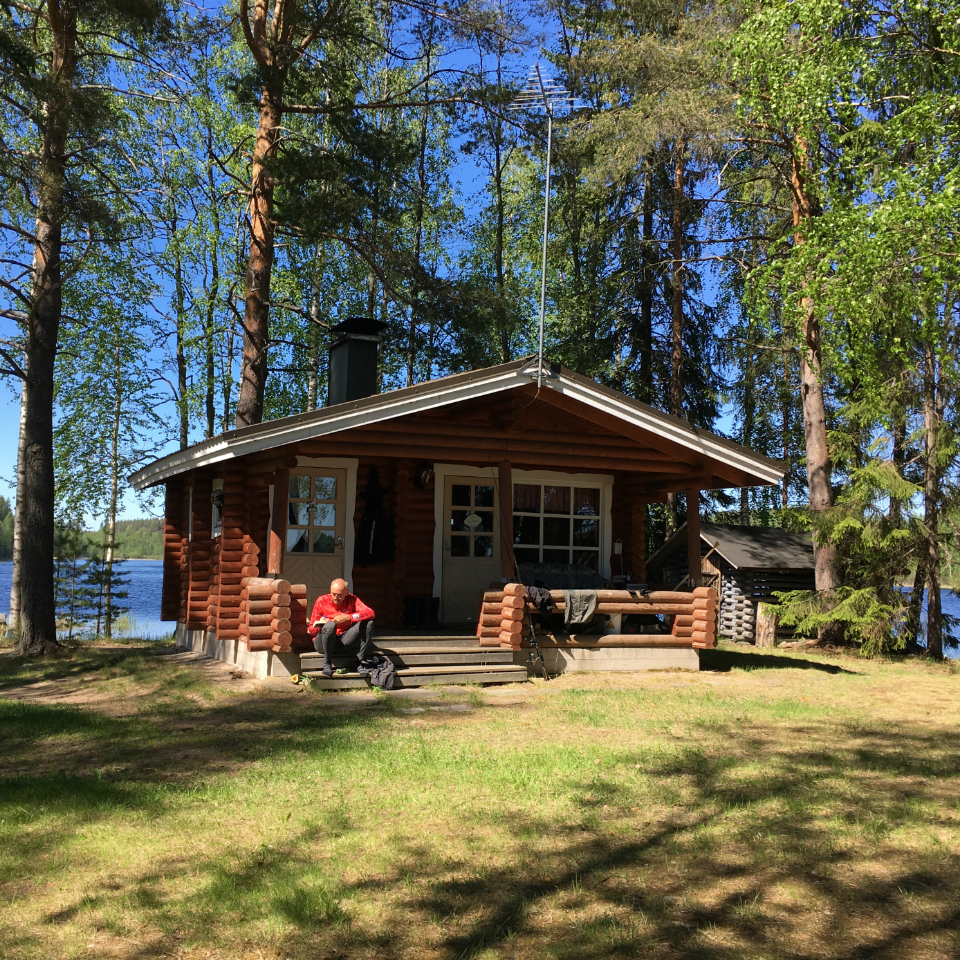 A cottage by the waters is every angler's dream come true. You can also enjoy this idyll by hiring your own fishing cottage.
There is a wide variety of accommodation sites available for you to use as a base for your fishing holiday. Alternatives include rental cottages, farm accommodation, hotels and camp sites. On the most remote fishing sites out in the wilderness, people camp in tents.
There are cosy cottages along the waters, where it's easy for you to head out on your fishing trip in the morning. The choices vary from ascetic and simple basic cottages to five-star villas equipped with every modern convenience.
Some cottage sites specialize in catering for anglers and these have been awarded Fishing Cottages status. These sites provide fish-processing and cold storage facilities, maps and charts as well as information about fishing and licenses in their respective local areas.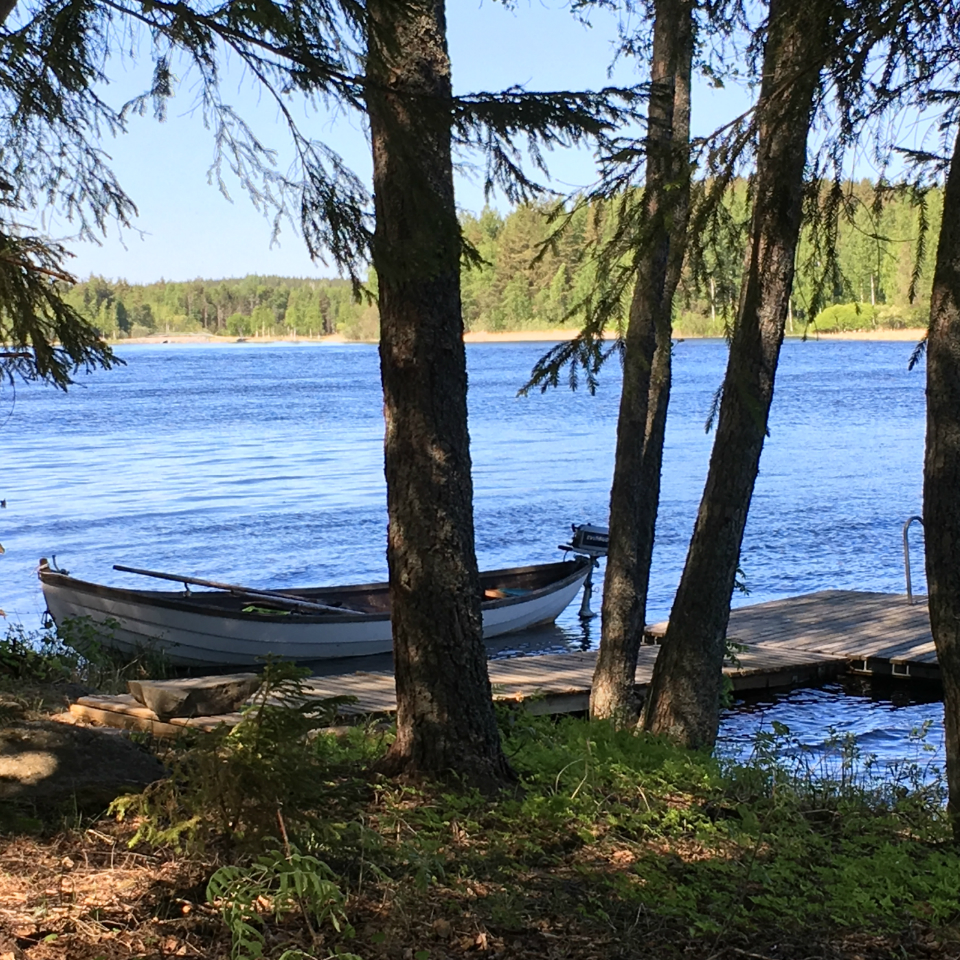 Cottages come with a rowing boat and some sites also offer motor boats for hire. It's a good idea to ask staff at accommodation sites about local fishing guide services. Using guide services is the easiest way to get to grips with fishing methods suitable for local waters right from the start of your holiday.
Cottages are fully booked during the summer season, so it's advisable to make your reservation well in advance. Accommodation is easier to find in the spring, autumn and winter, when you'll often get a lower rate as well.
For any further information or for a concrete offer please contact us on support@goforbigpike.com
Tight lines!

GBP Sportfishing crew

---