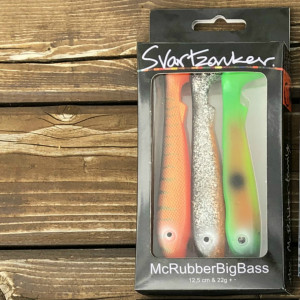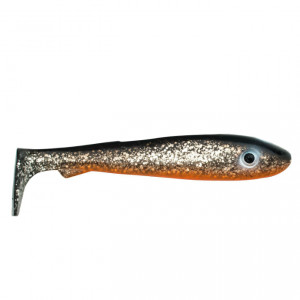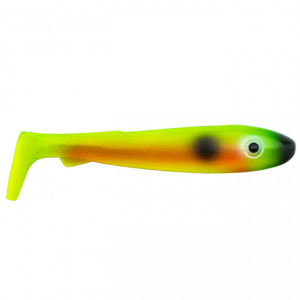 McRubber Big Bass 12,5 cm (3 pack) - Mixt
9.50 EUR
The McRubber Big Bass Paddletail is made to specifically target giant largemouth bass and smallmouth bass, but deliver very good results in zander, perch, pike fishing too and offers the swimbait segment a different look. It's live action profile produces vibrations like no other, thanks to the oversized square tail and slender tubular body that allows the bait to roll vigorously. At 12,5 cm length, it fishes best with our Svartzonker stinger tackle harnesses and jig heads for trophy bass, perch, pike and zander.


The McRubber family of paddletails are big fish magnets. It produces vibrations like no other, thanks to the oversized square tail and slender tubular body that allows the bait to roll vigorously. When fish swim up behind this bait and feel its lifelike thump of the paddle tail with their lateral line they are sold. Make sure to have a set of long nose pliers because fish inhale it. From the 35 cm Giant McRubber, designed to trigger strikes from the biggest muskies in the lake, down to the downsized 8 cm version that is irresistible for big walleye and trophy smallmouth, the McRubber family of paddletails has all species covered. Rig it with Svartzonker Stinger tackle for the best hook-ups and center balance that gives this bait its amazing roll.

Claes "Svartzonker" Claesson is one of the most prominent lure makers in Sweden and his Svartzonker brand is very respected throughout the Nordic countries, and for good reason! He has been consistently churning out very effective lures that have reached nearly cult-level popularity.

Length: 12,5 cm


It comes in 3-pack.



11-13 cm
20-30 gr.
Paddle Tail

is one of the most prominent lure makers in Sweden and his Svartzonker brand is very respected throughout the Nordic countries, and for good reason! He has been consistently churning out very effective lures that have reached nearly cult-level popularity.
Length: 12,5 cm

It comes in 3-pack.
">
http://goforbigpike.com/mcrubber-big-bass-125-cm-3-pack-mixt_138538
Hurry! Only 4 items left in stock.
---
http://goforbigpike.com/mcrubber-big-bass-125-cm-3-pack-mixt_138538
---