Sükös József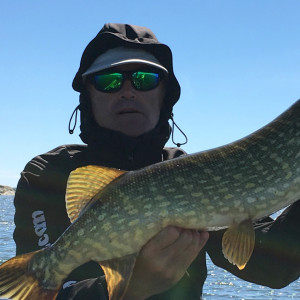 The unwritten law of the Danubian Delta in the last 20 years, says that you have nothing to do with wobblers here, because the lip hangs the grass, was rewritten by the gliders, especially by the Salmo. The slider slowed down from Tulcea to Sulina, and now is found even in the locals' lure box. But the pikes seem to have become accustomed with this kind of lure, and rarely you can catch a bigger one.
This is the moment when the Swartzonker Ticsaren from Sweden comes to the stage, namely the 11 cm, weighs 37 grams and Fire Tiger color. I would wonder that the pikes from Delta have heard something about Swartzonker from their Swedish relatives, but probably they do not even know about ABBA, IKEA or VOLVO. Some ignorants! Despite all their gaps in general culture, in September many pikes clustered to get acquainted with Ticsaren.
The size of 11 cm may be alarmingly high for the usual pike hunters accustomed with ordinary spoons, apparently did not disturb the dozens of pikes from the smaller ones to the respectable lady who took advantage of the fact that the leader was not from Goforbigpike, and she left with wobbler with all. After some, in this situations usual swearings, I start to fish with the old Slider. The attacks slashed a little, but the captured pikes were clearly smaller than those that were caught to Swartzonker. The Hamlet question is not whether I buy Ticsaren, just how many pieces...
---